Comfort and Firmness
The GhostBed Flex is a medium-firm mattress, and scores around 5.5 to 6.5 on the scale above. That makes it a good choice for a lot of people. It's a fairly accommodating range, fitting for both dedicated position sleepers (side, back), or combination sleepers.
The edge support of the GhostBed Flex is outstanding. They've added a reinforced section of pocket coils around the perimeter. This is important if you're an edge sleeper, or someone sharing a bed with a bed hog that shoves you off to the side. I'm also one of those people that likes to put my shoes on on the edge of the bed and I hate sinking down and basically sitting on the box spring. I like a lot of edge support and it's one of the first things I look at with a mattress.

In terms of support, the Flex has plenty to offer. I love the feel of a hybrid pocket coil mattress, and the Flex is right up my alley. It's comfortable without being too bouncy.
Cooling and Sleep Temperature
The Flex sleeps cool, thanks to the top layers of cooling materials. I've spent almost a week sleeping on this mattress and I haven't had any issues with heat. It's especially cool when compared to all-foam mattresses, specifically those with memory foam on the upper layers. Memory foam needs body heat to work, and this means that it retains and traps some of that heat to be able to mold to your body.
The cover is very fine, and feels quite expensive. It's literally cool to the touch. It's almost silky, and very smooth. In fact, maybe it's a little too smooth because my sheets kept sliding around a little. It could just be the percale sheets that I use though.
The Flex has individually wrapped pocket coils, which also contribute to airflow and the cooling factor. It sleeps downright cool, there's not really much else to say. Being in a colder northern state, it may actually be a bit chilly during the winter months without an adequate furnace. It feels like it retains literally no body heat and feels very neutral to the room temperature.
Layers and Construction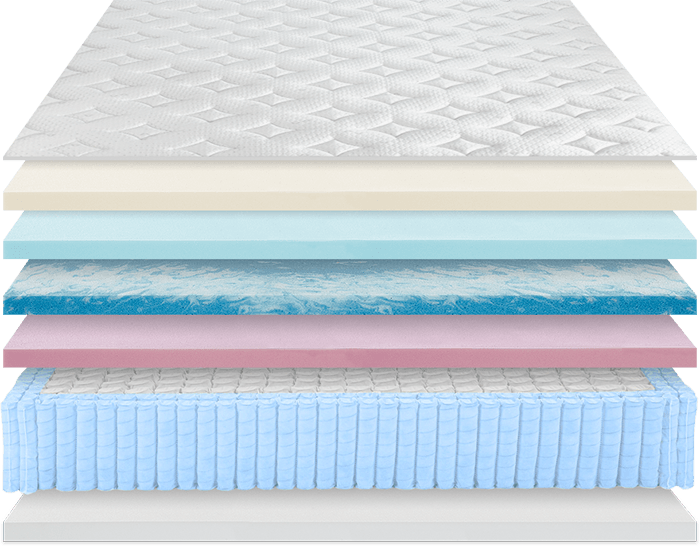 First and foremost, the GhostBed Flex is a hybrid mattress, which means it contains coils (springs) within its construction. This allows for a more traditional mattress feel and enhanced support and bounce, and is often a more familiar experience for people who grew up with a traditional spring mattress.
Lots of beds contain coils, but there are some key differentiating factors that indicate quality. On the lower end of the range, you have continuous coils, which are made out of a single very large piece of wire. Mid-range coil mattresses have individual coils, but formed into an open design. The GhostBed Flex, and other high end mattresses like it, contain individually wrapped pocket coils.
The individually wrapped coils lead to superior pressure isolation, which means that you're less likely to feel your sleep partner move and shift positions. The mattresses often are more responsive and more buoyant too.
GhostBed says the mattress is created with 7 layers:
Cooling Cover
1" of Cooling Fiber
1" of Gel Memory Foam
Another 1" of Gel Memory Foam
Ghost Flex Soft Transition Foam
Individually wrapped and reinforced coils
High density support foam
For edge support, there's a reinforced row of coils around the edge. This is in contrast to the traditional spring mattress, which has a length of wire that travels around the circumference. It makes for a more comfortable edge sitting or sleeping sensation. The Flex has the best edge support of any mattress we've tried.
Sizes and Dimensions
| Size | Dimensions |
| --- | --- |
| Twin | 38" x 75" |
| Twin XL | 38" x 80" |
| Full | 54" x 75" |
| Queen | 60" x 80" |
| King | 76" x 80" |
| Cali King | 72" x 84" |
The GhostBed Flex is 13" tall and works fine with all of the boxsprings, slatted frames, and adjustable frames that we tested. It's not a particularly tall mattress, nor a particularly short one. It's just about the right size for the category.
In terms of how much each of the beds weigh:
Twin: 76 lbs

Twin XL: 81 lbs

Full: 100 lbs

Queen: 122 lbs

King: 138 lbs

Cali King: 141 lbs
Customer Service
GhostBed, the manufacturer of the GhostBed Flex, has these customer support / contact options:
Live Chat (available during normal business hours)
Toll-free phone
Email
When I contacted support the reps were fast and friendly.
Delivery
The GhostBed Flex ships free, and fast (within 24 hours).
Our sample was shipped on a Friday and we received it via FedEx delivery on Monday. The company states that the delivery process takes "2-5 business days". It comes in a box, similar to most other online mattresses, and the king sized sample we received wasn't overly heavy or unwieldy for 2 people to lug into the house and lay on our foundation.
Trial, Warranty, Returns, and Exchanges
As with all GhostBed beds, there's a generous trial and warranty:
101 Night Sleep Trial
25 Year Warranty
One thing to note about returns is that you cannot initiate a return until 30 days have passed since the delivery of your mattress. So, technically the return period is anytime after 30 days, but before 101 days. The good news is that GhostBed doesn't charge you anything for a return, like some other online mattress companies (the amount of which seems to be increasing).